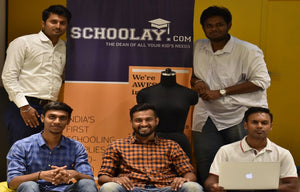 How India's First Online Kids and Teen Sportswear Brand is Disrupting India's Billion Dollar Unorganized Market
Original: https://www.nettyfeed.com/indias-first-online-kids-teen-sportswear-brand-disrupting-indias-billion-dollar-unorganized-market/
Author: Team Nettyfeed
At a glance
Schoolay is addressing a market that has been ignored by today's established brands: Children's sportswear. Here's how India's first online mono brand for schooling supplies is using technology to create customised children's sportswear and solving fitment problems.
It was a thrilling time to be a sports fan in India in 2017. The IPL was at its peak, stadiums were brimming with colorful jerseys, supporting their favorite teams. Excited men and women, and little children–in their over-sized jerseys–looked forward to the sporting event of the year.
Wait. Now read that once again. Yes, children in over-sized jerseys. You probably missed that.
At a time when sports is becoming mainstream, when children and students between 3-16 years of age are aspiring to be Cricketers, Football, and Tennis players, nobody is really paying attention to the fact that there are hardly any brands creating sportswear exclusively for children.
For Kiran Hiriyanna—an alumni of NIFT Bangalore, someone who built the supply and category for the Sequoia backed e-commerce firm Voonik and having previously worked in developing activewear ranges for brands like Wildcraft and Max fashion—this looked like an opportunity.
"With the growing presence of international brands for kidswear in India, the demand and expectations of today's aspiring little sports stars is increasing. But none of it is really available online at the right fit. That's a huge market. That's the idea behind Schoolay. We would like to position ourselves as India's first online kids sports casual brand," says Kiran.
Schoolay is using technology to create customised and personalised sportswear that ensures optimum sports performance–with the right fit for kids between 3 to 16 years of age. It's reaching kids in two ways: One, through schools (K-12, Montessori, and Residential) to help them create a brand identity with sports apparels and accessories. And two, by targeting parents. But how does Schoolay ensure the best fit without taking measurements of children–all online?
"We are encouraging schools to use our 3D body mapping tool (which is a request-based service) to get the best fitted patterns to ensure our kids are comfortable," Kiran says.
The Problem Schoolay is Trying to Fix
Schoolay's products aim to create anti-static, micro-fiber, breathable, light-weight, and quick-dry sportswear to ensure children are comfortable and their performance isn't hindered.
Schoolay is also providing schools with customised school uniforms and other schooling supplies that are created from scratch, depending on the school's needs–can be ordered online– and delivered to either schools or to parents at their door-step.
With Schoolay, parents don't need to stand in long queues half-way across the city and drag their children along to get their measurements. Then repeat the whole exercise to collect the uniforms.
"I thought when groceries are going home to customers, why not schooling supplies? And why not use the active-wear specialisation for kids? Why are there multiple vendors for multiple items? Why not a single platform for all?" says Kiran.
How Schoolay is Different from Its competitors
"Our major differentiator is we are controlling the supply chain from the very beginning, unlike our competitors who depend on other brands and other sellers in a marketplace model. We have had a good 2 quarters and are focussing on retaining existing clientele and achieving a growth rate of over 40% to the next quarter," says Kiran.
Numbers and Growth
Currently in its growth phase, Schoolay is looking to raise anywhere between 250K-300K USD and expand to other cities and to launch B2C services full fledged. Schools are a go to market strategy to build as a brand for the end consumers. "We want to grow to reach about 100 schools by 2021 and establish Schoolay as a kid's wear sports brand in the market. We want to reach an overall revenue of 5 Million USD by 2021," Kiran says.
Incorporated in November 2017, today Schoolay has catered to over 6,000 kids, 22 schools, presence in across five cities, a complete online prepaid revenue of 23,000 USD and an overall revenue of 1,50,000 USD in just 9 months of incorporation.
Those incredible numbers speak for themselves. There's no doubt that Schoolay could just be the schooling and children's markets answer to Decathlon.
We wish, "All the best to the Team-Schoolay for new heights and successes"
---