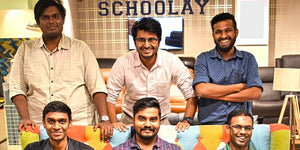 Yourstory - With sporty unisex uniforms, Schoolay wants to be a game changer in kids apparel market
Original Post: https://yourstory.com/2018/11/sporty-unisex-uniforms-schoolay-game-changer-kids-apparel-market
Bootstrapped Schoolay aims to provide premium quality children's unisex sports uniforms at affordable prices. It also claims to be profitable in just 11 months of operations.
Kiran Hiriyanna was buzzing with ideas to do something different. In a presentation for his employer, who was an online retailer for women's apparel, the 29-year-old realised the school uniform segment was largely unaddressed. He also felt school uniforms were not comfortable and often a hindrance for students while playing any sport.
"Schools spend a considerable amount of money on building their infrastructure. But very little attention is actually given to uniforms," he says.
Kiran spotted the gap and started Schoolay - combining the words 'School' and 'Play'- in early 2018 in Bengaluru.
The company aims to be a game changer in India's educational system by making uniforms more comfortable by creating a unisex brand, and the comfort will encourage children to take up sports. "Everybody needs the right clothing. You cannot expect somebody to run in formal pants," says Kiran.
The company has reached out to 12,000 students so far and claims it has remained operationally profitable since it began operations. The company started with an investment of Rs 8 lakh. It says it has provided sports uniforms to 32 schools so far, of which 29 have given repeat business.
---
Uniforms and more
A graduate of National Institute of Fashion Technology (NIFT), Kiran has the experience of working at Voonik, Max Fashion and has considerable experience in apparel industry. He spent the next three to four months meeting various schools to sell the idea that students should wear a sporty uniform at least once a week.
"Children spend nine hours at school in their uniforms and there was no wow brand where the clothing was comfortable in terms of fabric, styling and fit," says Kiran.
With Schoolay, he was also very clear the company would create a strong unisex brand where girls are also comfortable wearing their uniforms. "They (girls) should not be worried about bending or jumping while participating in sports," he says.
Schoolay formally started its operations in January this year. The founding team of Schoolay consists of Kiran, Rajakumaran, ex-Voonik, Hariharan, formerly with Wenger Watson & Igate, Siddarth, who worked with Louis Philippe, Vijay from Wildcraft and Akash, a former Capgemini executive. The team consists of 8 full-time individuals and two consultants. Kiran says it is a mix of people who have brought diverse skill sets like CRM, apparel sourcing, R&D and technology. In fact, a young engineer let go of his offer at Infosys and started working for Schoolay at a lower salary, he adds.
The kids wear market in India is estimated to be around $5 billion in size, of which the school uniform segment is worth $1.2 billion.
Getting the customers
The team was very clear that it would make all its decisions based on data. As a start, Schoolay did not approach the large and established schools with their branded uniforms as these institutions already have a well-established network of suppliers.
"We went to those firms which were in the business of supplying various materials to schools and got data from them on the new educational institutes which were opened," says Kiran.
For these suppliers, new schools did not mean big business as the intake of students was usually small. But Schoolay was undeterred and it changed the game.
"We always sold basket size to them," says Kiran. This meant that they did not just sell a t-shirt and track pant, but also a cap, bag and other accessories. The maths turned in their favour as they were successfully able to bill a minimum of Rs 5,000 per child. Say for 50 students, the company did a billing of Rs 4 lakh.
Costs at bay
Schoolay was also very cost conscious. There were days when the team would lug huge suitcases filled with sporty uniforms across the country travelling only in buses or trains as they did not want to indulge in any excess.
As Schoolay went about garnering business, the team also faced a constant question on how it will run its operations, as the whole school uniform segment was very seasonal. Later, they realised there were many schools which followed a different curriculum.
"A pre-school does admission thrice a year," says Kiran. Schoolay also has a customer in Dubai where the school opens in October.
A strong start
In just ten months of operations, Schoolay generated a business of around Rs 19 lakh per month, running into an annualised run rate of Rs 1.2 crore.
"We always ensure that our operational costs never cross 25 percent of the total revenue," says Kiran.
Schoolay sources its garments from four locations - Delhi, Bengaluru, Tirupur and Ludhiana. It also has a strong R&D team, design capability and quality checks.
These uniforms can also be procured online. In fact, 16 schools that Schoolay has supplied the uniform to have increased the number of days of wearing sporty dresses.
Kiran believes that it is important for Schoolay as a brand to be present both offline and online. "Online is convenience and offline is trust," he says.
Towards this end, it will be opening a small retail outlet through the shop in shop concept at a mall in Hyderabad called The Chennai Silks in December this year, which will focus on children in the age group of 2-12 years, with a unisex sportswear fashion brand.
The school sports set of uniforms are priced from Rs 750 onwards, while its fashion collection is Rs 399-499.
Future plans
Schoolay is targeting 100 schools in the next one year and wants more than 50,000 students to wear its uniforms by March 2020. Similarly, it plans to have 24 shops across India. "Every child has to experience our sportswear at least once in their school days," says Kiran.
From a competition perspective, Schoolay does not face any direct threat as it comes in bits and parts from companies such as Firstcry or Decathlon.
Kiran hopes Schoolay will be able to establish a sporting culture in the country. However, the challenge it faces is the uncertain future, as there has been no attempt in India in the school uniform segment. Secondly, it has to also change the mindset of school management, which is regimented in many ways.
The startup, which has been bootstrapped so far, is now looking to raise around Rs 2 crore in funding, which will be primarily used for brand building, marketing and retail expansion.
---